Dwyane Wade | Zaya, Kaavia, Gabrielle Union and Dwyane Wade | Source: Getty Images
Dwyane Wade and his wife, Gabrielle Union, have proudly announced that their daughter is a member of the LGBTQ+ community.
Zaya – whose birth name was Zion – asked her parents to start addressing her with the correct pronouns. Zaya is Dwyane Wade's daughter from a previous relationship.
In early 2020, Gabrielle Union shared a family photo on Instagram where Zaya was seen in a different light. The family portrait made waves as social media users commented on Zaya's appearance.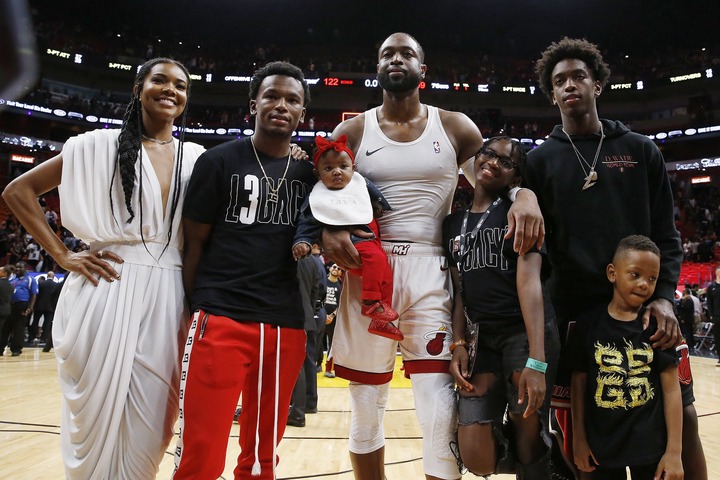 Dwyane Wade poses with wife Gabrielle Union, nephew Dahveon Morris and children, Kaavia, Zaire, Xavier, and Zaya. | Source: Getty Images
Dwyane Wade's Trans Daughter
In an interview with Ellen on "The Ellen DeGeneres Show," Wade opened up about his daughter and confirmed that she is transgender. He explained that Zaya came home one day and said:
"I think going forward, I'm ready to live my truth."
According to Wade, their daughter requested that her parents use female pronouns when they referred to her. Not only that, she no longer wanted to go by her birth name. She wanted to be called Zaya.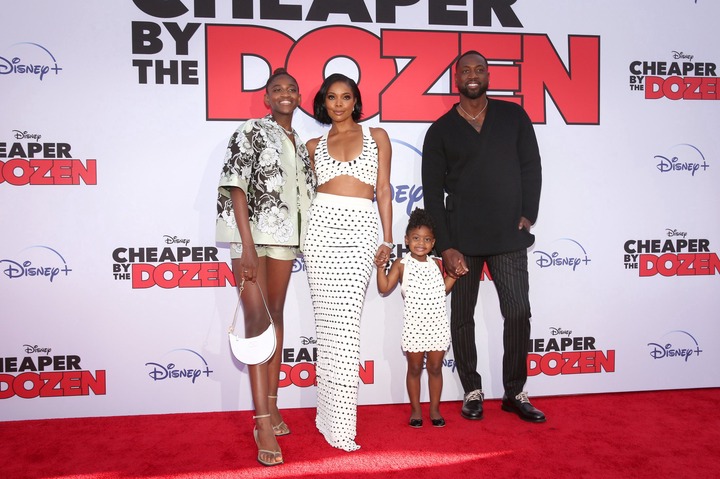 Zaya Wade, Gabrielle Union, Kaavia James Union Wade and Dwyane Wade attend the World Premiere of "Cheaper By the Dozen" at El Capitan Theatre in Hollywood, California on March 16, 2022. | Source: Getty Images
In August 2022, Page Six reported that Wade filed a request related to a name and gender change.
The former Miami Heat player signed the paperwork to change his daughter's name from Zion Malachi Airamis Wade to Zaya Malachi Airamis Wade.
The petition also asked that Wade's 15-year-old daughter be noted as a female in all future legal documents.
Dwyane Wade, Zaya Wade, and Gabrielle Union arrive at Gucci Love Parade on November 02, 2021, in Los Angeles, California. | Source: Getty Images
Wade reportedly notified the court that he did not need the consent of Zaya's mother, Siohvaughn Funches, to file the request.
Although Wade had complete authority to file the petition, Zaya's mother had courteously received notification of the request regarding her daughter.
Shortly after Wade's sit-down with DeGeneres, he reportedly explained on "Good Morning America" that his daughter knew when she was three years old.
Dwyane Wade, Gabrielle Union, and Kaavia James Union Wade attend Nickelodeon Kids' Choice Sports 2019 at Barker Hangar on July 11, 2019 in Santa Monica, California. | Source: Getty Images
Dywane Wade's Other Children
Kaavia James Union Wade is Dywane's youngest child and the first with his wife, Union. Wade's wife reportedly struggled with infertility. In her book, "We're Going to Need More Wine," Union reportedly revealed:
"For three years, my body has been a prisoner of trying to get pregnant – I've either been about to go into an IVF cycle, in the middle of an IVF cycle, or coming out of an IVF cycle."
Wade and Union happily welcomed their baby girl, Kaavia, on November 7, 2018, via surrogate.
Dwyane and his first wife presented Zaire Blessing Dwyane Wade, born on February 4, 2002. Zaire is reportedly trying to take a leaf out of his father's book and follow suit in a basketball career.
Xavier Zechariah Wade is the only child who Dywane and Aja Metoyer shares. Xavier was born on November 10, 2013. Metoyer was reportedly Dwyane's longtime friend, and the two had a child while Dwyane and Union were on a break.
When Dwyane fessed up about having a child with someone else, he proposed to Union, and she said yes. Dwyane and Union tied the knot in August 2014.
The Mothers of His Children
When Gabrielle Union and Dwyane first met in 2007, he was still married to his then-wife Funches, and Union was fresh out of a divorce from former NFL player Chris Howard.
Union was reportedly "devasted" when she found out they had a baby.
Three years later, the couple found romance, and Union became a stepmom to Dwyane's two children with Funches and his other son, Xavier. The couple has since thrived at raising a blended family.
Dwyane Wade and Gabrielle Union attend the "The Inspection" Premiere during the 2022 Toronto International Film Festival at Royal Alexandra Theatre on September 08, 2022 in Toronto, Ontario. | Source: Getty Images
Aja Metoyer is the mother of Dwyane's third child, Xavier. She also had two daughters with Damon Wayans Jr, who she reportedly calls her "first love." Metoyer's rise to fame came with the news that she was carrying Dywane's baby.
Union was reportedly "devasted" when she found out they had a baby. She and Dwyane were trying so hard to have a baby. Union felt "broken" after several miscarriages, while Dwyane Wade was so easily able to have a baby with someone else.
Source & Credit: operanewsapp.com