Although the iconic, Tina Turner (82), has been with her husband of nearly 9 years, Erwin Bach, for several decades now, the pain of her tumultuous 16-year marriage to her former band member, Ike Turner, will never leave her. We've all heard the horror stories that Tina has given about the extreme physical and mental abuse she endured from Ike. However, according to what Tina told Oprah Winfrey in an interview, what we saw in her biopic, What's Love Got To Do With It, was 'nothing, compared to' the actual abuse Ike tormented her with.
In the interview, not only did she reveal, in graphic detail, the first time Ike actually beat her, but we also learned that her childhood was clearly the reason for her willingness to remain in that marriage for so long. Check out some of the transcripts from Tina Turner's interview and you can watch the full video below.
Tina: "My Struggle Started In My Mother's Womb"
Tina revealed that it was the un-wanting she felt from her mother, Zelma, and the abuse she witnessed between her mother and father, Floyd, that conditioned her to accept abuse early on.
(At 18:16 mark of the video below) Tina Turner: "It [her childhood] was hell, but what I really want to say to the public is, my struggle started in my mother's womb. I suffered all the way from childhood, right up until the end of Ike. And what kept me on course was me…something I believe I was born with, was always staying on track because I always prayed.
She [Tina's mother] was about to leave him when she found out that she was pregnant with me and the fighting had already started, but what I liked about her was she always fought back. … When they fought, there was no him standing over her, she was a fiery woman."
When Oprah stated "But you grew up watching your father beat up your mom," Tina subtly corrected her to clarify that her mother didn't get 'beat up,' but that they instead fought. For Tina, that seemed to make a difference in the way she perceived her mother at that time:
"I watched them FIGHT. No, never 'beat her up,' I never saw him win. She fought with sticks of wood and everything, I mean, she was really feisty."
Her Mother Did Not Want Her
Tina: "She did not want [another baby] and I knew it … I was that baby. … I didn't know what love was as a young child, but I was born independent."
Tina Describes Horrific Day Ike First Beat Her
Tina Turner (born Anna Mae Bullock) explained to Oprah, that Ike's abuse started from his jealousy of her and the fact that she was garnering most of the attention from their band, Ike & Tina (in the video above):
Tina: "Ike's problem was, he was a musician who always wanted to be a star…and WAS a star locally, but never internationally. … So he then changed the name (of the band) to Ike and changed my name to Tina, because if I ran away, 'Tina' was his name, it was patented…so he could own me. … Oh, he was smart! He wasn't an educated smart man, but he had a common sense and a [real strategy], and a con. … I didn't even know that was the name of the record and I started to feel something and he started to touch me. I really didn't like it 'cause that was my brother, that was my friend….
That's when Tina confided in one of Ike's staff members, that she wanted to get out of the romantic situation that Ike was trying to put her in:
"It was just control," said Tina. "Ike had sex with everybody around him…everybody's wife. So then I said to the woman that was helping him at the time [that] 'I don't want to do this.' I knew how Ike was, he always fought women, men, everybody. And my instincts told me I was moving into something that wasn't going to be good.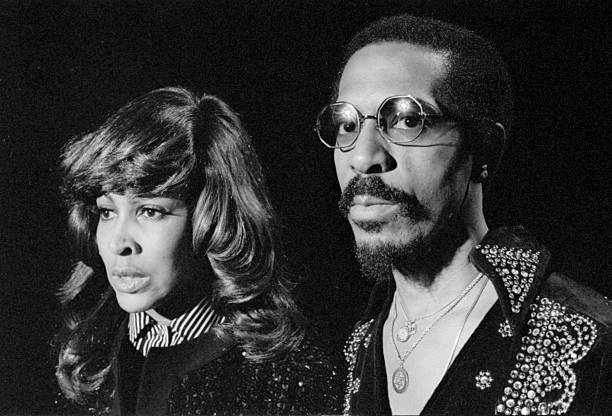 The woman told Ike that Tina was considering ending their romantic ties and that's when Tina says she received her first brutal beating from Ike:
"So then she said 'Ike wanna see you.' So I went into his room … He started it [the conversation] with, 'What are you trying to do to me?' And then the next thing, he would pick up something, because…when you play guitar, you can't fight and play guitar. So he always fought with something…against the head- always the head- with a shoe stretcher, a wooden shoe stretcher! And it REALLY hurt! But I was still trying to figure out what was happening. … And so then, the beating came [as Ike was telling her 'You're just like all the rest']…and I was down [on the floor] by then, really started to cry."
Then Turner says Ike made her do the unthinkable immediately after giving her that first beatdown:
"Then he says, 'Get in bed.' That was REALLY awful, to have s'e'x after…I HATE
you, how could I let you…how could we make love now, if it's LOVE?!! And then I laid there with a swollen head, just having sex, feeling like 'You have REALLY gotten yourself into something.'"
'Why didn't she leave,' is the question many may have, but for many battered women, including superstars like Tina Turner, having a clear, rational outlook in that moment, is not always that simple:
"I had nowhere to go, I had a child…I had nowhere to run, I needed to make money, I wanted to sing to make money," confessed Tina.
Thankfully, for Tina and her children's sake, she eventually decided to fight back in the limousine that day and run like hell afterwards, toward a new life, a new love, and a new evolution of her music career.
Source & Credit: iloveoldschoolmusic.com